About me
About Charles
Charles is a young coding professional living in Noblesville, Indiana. He has been happily married for 7 years now to his wife Whitney, and they have a 4 year old daughter named Lilly. He is most passionate about Music, currently playing for the band All The Astronauts. He has been playing guitar for over 20 years now. If you can not tell creativity is a very important part of Charles' life, and that is why coding fits him like a glove."
He is involved locally at Crosspoint Church in fishers, and volunteers on the worship band regularly. In his spare time he enjoys taking pictures of family, and animals at the zoo, and has become quite good at it. He seems to have the ability to capture an image that comes to life naturally. He also loves BBQ and wouold consider himself a semi professional BBQ pit boss. You will regularly see him trying out new recipies on friends and family, and hanging out around his smoker in the back yard.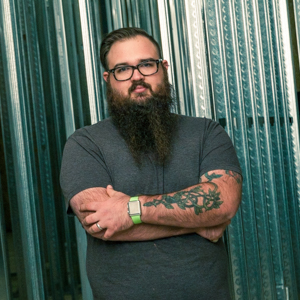 Services
Webdesign
Creative solutions for custom websites.
C#/HTML5/CSS
Front end and Back end development.
Creative Consulting
Professional Consulting for Web Design.
Social Media Marketing
Setting up social media campaigns for local bands and small business.
Photography
Professional looking photos for website design or social media.
Music Production
Need Custom Music? I can do that.
Professional Career
Over the years Charles has gained a lot of expireance working mostly in retail. He has many notable strengths and achevements in his career. He is a very talented manager, and has a nack for connecting with employees on a level that is not seen very often in a retail environment. He has built highly functioning teams, with a bare bones attitude. As he would call it, "lean and mean." He has won numerous awards for his stores and for himself including the Warehouse Before Christmas award for Guitar Center, and a Retail Service award. He is also dedicated to his craft spending time outside of work to better himself.
He spend 4 years with Guitar Center in many different roles including Sales Manager and Operations Manager. In Greenwood he overhalled the warehouse to an award winning, efficiant, well oild machine. In 2014 he was awarded the retail service award for his hard work at the Greenwood location.
After working for Guitar Center, Charles made a very tough decision to join the Cabela's Family and open the new store in Noblesville. While at Cabela's he recived a Vice Presidents Pin for the management teams efforts up to the opening of the store. Some would say it was the smothest operating store at Grand Opening that they had ever seen.
In another tough decision, Charles decided to leave retail all together and took a job at Angie's List. He worked directy with service providers, and helped them set up advertising campaigns through Angie's List. He also helped them build up their online presence and reputation. Currently Charles is attending the Eleven Fifty Academy in Fishers, Indiana to learn how to code.
Contact
Please feel free to contact Charles by any of the links below, or by the contact sheet to the left. He will usualy be able to respond to a message the same day.